Quick & Delicious Bento Box Recipes for Office Lunches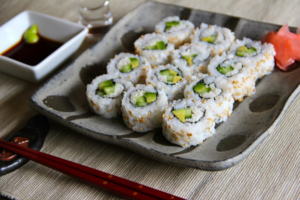 We often struggle to prepare lunches during the work week. With a little bit of meal prep, you can easily make delicious lunch. Bento boxes are a great way to carry your lunch and snacks to the office. Get your bento boxes ready to be filled with these delicious recipes:
Caprese Salad with Sourdough Crisps
In a bamboo skewer, arrange cherry tomatoes, sliced bocconcini folded basil leaves. To make balsamic glaze, heat balsamic vinegar in a saucepan along with some brown sugar. Dip a fork in the glaze and drizzle over the skewers. Thinly slice some sough dough bread and grill with a little bit of olive oil. Place the skewers in the bento box with the sourdough crisps.
Place cooked sushi rice on a sushi mat. You can also use organic basmati rice to make this sushi roll. Add cream cheese, julienned carrot, cucumber, avocado in the middle. Roll the sushi using the mat to fold. Sprinkle some black sesame seeds on top. Serve cold with soy dip, wasabi, and pickled ginger. You can also use the best basmati rice to make the sushi rolls. Cut it into small pieces and place in your bento box.
Halloumi Kebab with Miso Chili Sauce
In a hot grill pan, put fresh halloumi slices. Brush a light marinade made with olive oil, lemon, salt, and pepper. Grill until the cheese gets char marks. To make the miso chili sauce, heat orange juice in a pan along with lime juice, miso paste, red chili flakes and brown sugar. Set it to a gentle simmer in low heat until it thickens. Garnish with fresh mint leaves and drizzle over some orange sauce.  Place the halloumi kebabs in the bento box with a handful of romaine lettuce.
In a food processor add boiled chickpeas, tahini, lemon juice, roasted garlic cloves, olive oil, salt, pepper, and blitz until smooth. Put the hummus in the bento box. Drizzle some extra virgin olive oil, sprinkle some sumac and fresh pomegranates. Add a handful of veggie sticks like celery, carrot and bell pepper along with some pita bread.
Slice some baguette and layer with some hummus. For the first variety, add diced green olives and sundried tomatoes. On another toast, add some fresh tzatziki. Add pomegranate seeds and chopped mint leaves. Finish with a grating of orange zest. Add these bruschetta in the bento box.
Enjoy your favorite dish in the form of a salad. Cook orzo pasta and let it chill for 2-3 hours. In a large mixing bowl, add olives, rocket leaves, sundried tomatoes, cherry tomatoes, capers, roasted garlic, thyme, fresh basil, crumbled feta, cucumber, olive oil, salt, pepper, and oregano. Add the cooked pasta and coat well with the ingredients. Place the pasta salad in the bento box with some crusty baguette.