We have to admit that choosing the best car engine oil for our cars is not easy at times. Sometimes engines start misbehaving by producing un-friendly noises for example and that possibly indicates that a switch to another type of engine oil other than the one you are using is inevitable. Now the task here is finding another type of engine oil that will not fail your engine this time. There are different kinds of engine oils to choose from in the market.
There is fully synthetic engine oil type, the conventional type, synthetic blend which is a mixture of regular and fully synthetic oil, and then there is high-mileage kind of engine oil. All these serve the car engines on different capacities. Now the issue here which amongst all these types happens to be the best engine oil brand. Choosing one of them can be challenging but once you consult you vehicle's manual, you may have a hint of what kind of oil you should be using. Whether you are choosing two wheeler engine oil or four wheeler engine oil, you should have your facts right so that you can end up with the right choice of engine oil after all. Between regular oil and synthetic oil for example, each one of them has its own pros and cons. After weighing their pros and cons, you can then come up with a decision on which type of oil you should use.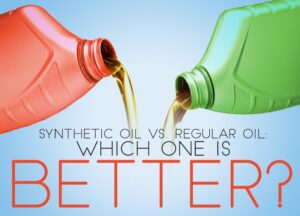 Synthetic oil however is the most recommended type of oil as it has powerful engine protective features compared to regular engine oil. The argument here is that regular oil is usually not fully refined to eliminate naturally occurring residues which may tamper with the performance of the engine to an extent of damaging it. The use of regular oil therefore requires you to change the oil frequently. On prices, they differ too. Synthetic engine oil price for bike will not be the same price with that of regular oil for the same bike. Synthetic is more expensive compared to regular. Let us find out about other features that make choosing synthetic oil for cars more reliable compared to regular oil.
Why synthetic oil is better than regular oil
These are further reasons that make synthetic oil more reliable compared to regular oil;
Synthetic engine oil works well in both extremely low and high temperatures. For the regular oil, it starts thickening in cold temperatures thus making it unreliable for the car owners that operate in cold areas mostly. On the high temperatures note, regular engine oil will start evaporating and with time you will be required to do some oil change. This takes a toll in fuel consumption since your engine will be overworking to keep up. Synthetic oil on the other hand exists in different viscosity levels that you can choose from depending on the climatic region of where you operate in.
Synthetic oil is pure. Regular oil contains impurities and contaminants even after being refined from crude oil. This makes it unsuitable for engine's performance which cannot thrive without breaking down due to wear caused by such contaminants. It also makes it dirty which may require you to clean it more often. Synthetic oil on the other hand is lab-manufactured which makes it a hundred percent pure from any impurities.
It provides better lubrication. About fully synthetic engine oil, it has friendly engine lubricating properties and it is the kind of oil that will not have you changing engine oil now and then. This makes the engine last longer and perform well.