The clock ticks sweeter when Christmas is fast-approaching. The most wonderful time of the year is here when the world unites in the merriest cheers! 
The colorful streets make friends and families enjoy the outdoors more than any season. The cold breeze lets people take the thick clothes out of the closet and into the walkways. The enthusiastic festivities here and there bring out the energy and friendliness in everyone. Wherever you turn your eyes to, it's just definitely Christmas.
And there is no place like home even when in the Yule season! Planning to embellish your turf with a fabulous Christmas flavor but don't know yet what decors to buy or create? No problem, here is a list of decors and tips to significantly grace your home for Christmas! 
1 – WALL-MOUNTED DRIFTWOOD CHRISTMAS TREE
O Christmas tree, you'll ever be unchanging! It's what the carol's lyrics say, but you can actually modify the appearance of your very own evergreen while retaining its essence! 
As years passed, Christmas trees all over the globe have been innovated and enhanced with diverse styles, patterns, colors and materials that never fail to stand out! Among them, wall-mounted Christmas trees have become a trendy thing. First of all, it is totally space-saving; second, it squeezes out your creative juices for sure. There may be limited stocks in the market, but you can definitely craft your own!
The idea that the photo above gives is a wall-mounted driftwood Christmas tree. What is driftwood? These are woods found floating over the sea or which have been brought ashore by the waves. Interesting!
For a DIY activity, you just have to gather a set of driftwood which are functional and presentable. You may find them in arts and crafts stores, but it's not guaranteed that all shops have them. To form the pine tree shape, make sure to have them in different lengths. If you can't exactly find as needed, cutting can be done. Use tough strings or metal wires to attach the driftwood altogether. After that, you can hang your desired figurines like reindeers, stars, snowflakes, balls, drums and flowers. See to it that they don't put in too much weight on the framework, so your driftwood Christmas tree won't fall off. 
You may consider matching the color of the tiny details of the tree with the driftwood's color. 
Take a look again at the photo above. Bronze, gold and silver are the only colors used, giving the tree an elegant and natural-looking tone. Nonetheless, any color you want will do! Using a wall-mounted driftwood Christmas tree is cost-effective and eco-friendly.
2 – SANTA'S SLEIGH AND REINDEER ON TOP
Dashing through the snow, Santa's coming to town with his reindeer sleigh! 
When you want the whole neighborhood to know that you're so crazy about Christmas, why not let your roof's speak?! Christmas LED lights that form various images are never not impressive! They are head-turners wherever they are! Streets and alleys filled with stores selling these LED lights are always lively and dazzling. And houses decorated with them are wowing for taking the Holiday home decors to the next level!
One of the most famous shapes or images of Christmas LED lights that both commercial and residential properties love having is the photo above: Santa on his sleigh while his reindeers are pulling it. 
Sleigh is used to travel over snowy grounds. As for the fictional Christmas character Santa Claus, he is said to be riding a giant sleigh to deliver presents to nice kids around the world! It is pulled by his reindeers to fly on Christmas Eve.
Having such a decoration on top of your house is going to be thrilling, and children will truly stand in awe of the gleaming and bubbly visuals! An added benefit of this Christmas decor is heightened lighting around your home area. 
Bear in mind that installing such roof ornament is challenging. You can't simply do it yourself if you don't have enough knowledge and skills. You might end up with numerous roof repairs to be done even before the New Year comes! So be very careful and clever when it comes to selecting this roof Christmas decoration. 
3 – HOLLY JOLLY VASES
'Tis the season to be jolly! Your flower vases at home can prove that too! And the twist is that they don't always have to be actual vases but beverage and wine bottles clothed with artistry.
Perfect for plant-lovers, holly jolly vases such as the ones shown in the image above are pretty and pleasant in every way. You can buy Yule vases and pots, but if you don't have time to leave the house, you may do them yourself! Utilize empty soft drinks or wine bottles. Clean and sanitize them completely. Bring out some excess fabric to cover them up, or paint them with the Holiday colors. Tie bows, stick gems or wrap yarns around them. 
The key point of these vases is the message you convey with them. These decors are not mere vases on their own but expressive adornments. Put one letter on each vase to form the word "JOY", as in the photo above, for it is indeed a season to rejoice! Go for "LOVE" for it is an illuminating time to give and receive. "PEACE" is a yes as well for it is what the entire world hopes for everyday, especially on Christmas. 
To finish your meaningful Christmas vases, put in your lovely fragrant flowers. Meanwhile, if you want to go for something not withering, have those woods or plastic sticks with Christmas balls attached to their ends, taking the place of flowers. This is an ideal option if you love round objects for the new year to come!
4 – CHRISTMAS NATIVITY BALL 
Step up the Christmas ball game with a table centerpiece that's both dapper and reflective. A Christmas Nativity Ball will make sure you will never forget the real meaning of this joyous occasion!
Usually, Christmas glass balls contain a snowman, a house, a Christmas tree or Santa. There's some liquid where tiny snowballs made of styrofoam move around, especially when shaken. To make your home decoration more meaningful, have a Christmas Nativity Ball where it can be easily seen! It's better to not let it be hidden away inside your bedrooms; instead make them the eye-catchers in your living rooms and dining areas. 
Also known as the manger scene, the Christmas nativity scene is a special illustration of the elements present at the night of Jesus' birth. It reminds the world that the one and only savior was born in Bethlehem. Upon His shoulders shall the government be. Because of His unconditional love, God was manifest in the flesh — Jesus was born. Jesus is God. 
Beyond all the fun and gifts everyone is most excited about, it's still the reason for this season that's to be highly remembered. Reflect and celebrate what the Lord has done! The greatest gift to all mankind is more than enough to be endlessly thankful forever.
_____________
HOME FOR CHRISTMAS
It could be quite tiring and taxing to decorate your whole house for the Holidays, yet there's nothing like the fun and fulfillment it gives! Grab the most suitable decors for your abode, plan where and how to install them, and spend a blissful time fashioning your home with your loved ones! It's going to be a brighter and more memorable Holiday season! Everyone will definitely want to be home for Christmas! 
_____________
ABOUT THE AUTHOR: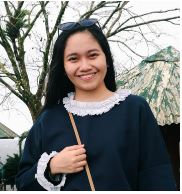 Nicole Ann Pore is a writer, an events host and a voice over artist. She finds quality and well-researched writing as a worthwhile avenue to enlighten and delight others about things that matter. For her, it's restoring and fulfilling to the heart and a great way to clear the mind while loading it up with fresh learning. Film critiquing and filmmaking are among her interests too. Giving all the glory to God, Nicole graduated Cum Laude from De La Salle University Manila, Philippines with a Bachelor's Degree in Communication Arts.