Rings are one of the most meaningful and sentimental pieces of jewellery, whether you're buying one for a gift or for yourself. Stacking rings have become increasingly popular over the years as 'more is more' has become the catchphrase for many peoples' fashion and jewellery choices. If you're looking for a stacking ring full of colour and meaning, why not try one that features a birthstone? Like stacking rings, birthstone jewellery is a staple item in a jewellery lovers' collection. Combine the two to make your own stunning stacking combinations – keep reading to find out how!
What is a birthstone?
A birthstone is a gemstone that represents a persons' birth month or star sign. There are 12 traditional birthstones that represent each calendar month. The traditional birthstone chart is as follows:
January: Garnet
February: Amethyst
March: Aquamarine
April: Diamond
May: Emerald
June: Pearl
July: Ruby
August: Peridot
September: Sapphire
October: Opal
November: Citrine
December: Turquoise
With the release of modern birthstones, some months now have 2-3 birthstone options – for example, June has three birthstones: Pearl, Alexandrite and Moonstone. Each birthstone has its own colour, origin and meaning that connects deeply to its month and to those born in that month. Like crystals, birthstones have deep spiritual connections, powers and properties. For example, the January birthstone, garnet is a powerful energizing stone that is said to protect its wearers from disease, nightmares and evil.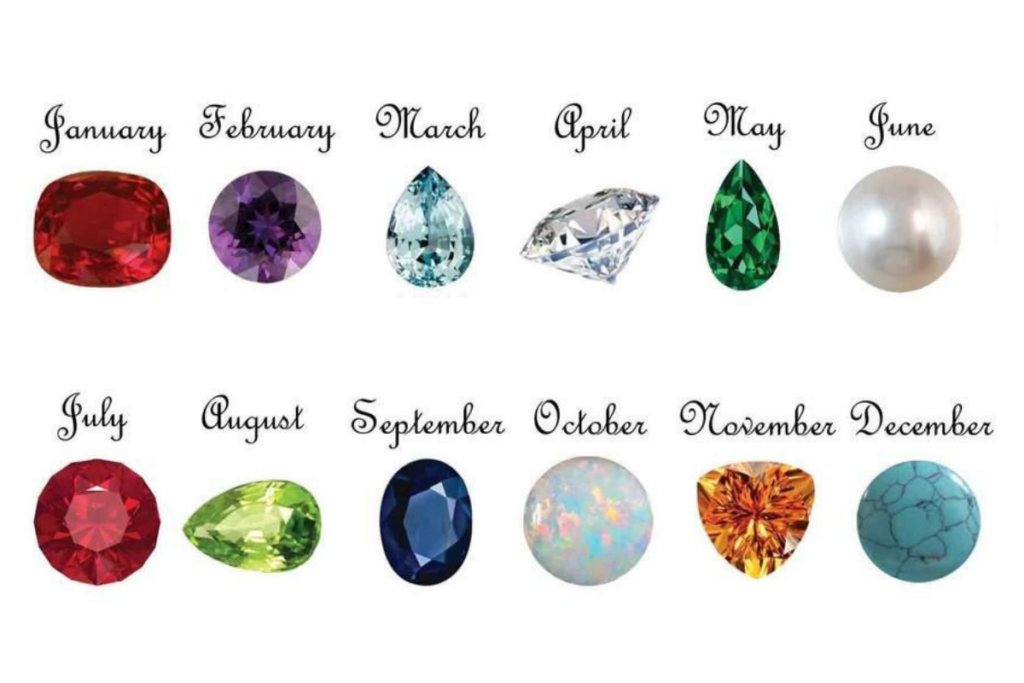 What are stacking rings?
Stacking rings are simple bands that can be stacked on top of each other. These rings are typically plain and make the finger and hands looks longer and more elegant. This style is most common with wedding and engagement rings. To start stacking rings, pick the finger you want to create your stack on. Find rings that fit this finger and start layering them atop one another! These rings can all be the same colour for a coordinated vibe or different colours and materials for a mismatched textured look.
When incorporating birthstones, you can pick rings with the birthstone embedded in the band or standing off the band. With the latter, you need to be careful when stacking these to avoid two or more gems hitting against each other. To solve this problem, angle each gem slightly off centre to create a fun jagged look and to keep your jewellery intact. This is also a great opportunity to play with shapes. Try circle, square and diamond shaped birthstones to give more shape and structure to your stacking combinations.
How to style birthstone stacking rings
There are many ways to style birthstone stacking rings. Here are our top three ways to style your birthstone stacks.
1. Pick your loved ones' birthstones
Start by picking your birthstone and then dive into the birthstones of those around you. This can be for your parents, siblings, best friends or husband/wife. This ring stack will be extremely meaningful, personal and unique to you and your inner circle. You can continue to add to this stack for years to come and you can also incorporate gemstones that represent special occasions, like anniversaries. This is a great gift idea for both birthdays, anniversaries, Valentine's Day and Christmas.
2. Mix and match your birthstone and zodiac stone
For those who have a deep connection to their zodiac sign, you'll be happy to know that you can also find your zodiac stone! Each zodiac sign has its own gemstone so find yours and combine it with your birthstone for extra colour and sparkle.
The zodiac gemstones are:
Aquarius (20th January – 18th February) – Garnet
Pisces (19th February – 20th March) – Amethyst
Aries (21st March – 19th April) – Bloodstone
Taurus (20th April – 20th May) – Sapphire
Gemini (21st May – 20th June) – Agate
Cancer (21st June – 22nd July) – Emerald
Leo (23rd July – 22nd August) – Onyx
Virgo (23rd August – 22nd September) – Carnelian
Libra (23rd September – 22nd October) – Chrysolite
Scorpio (23rd October – 21st November) – Beryl
Sagittarius (22nd November – 21st December) – Topaz
Capricorn (22nd December – 19th January) – Ruby
To give you a better idea of the combinations you could come up with, let's say you've got a May birthday and you're a Taurus. This gives you an emerald birthstone and a sapphire zodiac stone. If you want to, you can even go as far as to find your birthday stone which is the stone for the day of the week that you were born.
3. Stack your traditional and modern birthstones
Finally, stick to your own traditional and modern birthstones. This is a way to keep your combination simple, laidback and most importantly, all about you! If your birthday falls in a month with two or more birthstones, why not pick all of them and stack them together?! If your birth month only has one choice of birthstone like January and February, play with the different hues and tones of the gemstone. For example, February's birthstone Amethyst varies in light to dark purple tones so you can really dive into all the colours and sparkles of this gem.