Countryside is beautiful and closer to natural surroundings. If you've ever stayed at a countryside homestay, you may like to add certain features of it in your own home décor. Specially countryside homes in parts of Italy are beautiful. Country style décor is all about rustic, sustainable interiors, that are amazingly affordable too. You can get some custom furniture made from your local carpenter using ethically sourced wood.
Shelves
Pallet shelves are great to add character to your living room. You can get old pallets cheap at artist shops. Stain them in a wooden colour to complement the existing décor. A white wall will be a great background for these shelves. Rustic photo frames are beautiful for old black and white photographs. A handcrafted customized wooden frame will look lovely on the wall or on the side table of your bed. An elegant wine rack made with the rustic wooden palette is a great way to showcase your collection. You can also create a hanging section of wine glasses at the bottom. Twine covered flower vases add a subtle earthy tone to your living space. Just wrap the vase completely with twine and decorate them with some fresh flowers. Various shades of wooden sheets can be plated together into a wooden table to create a stunning coffee table. You can choose the pattern and colours that you want to use. Add a touch of rustic elegance to your living room with this coffee table. Bamboo furniture looks great in the patio or backyard.
Concrete Furnishing
Concrete craft are durable and looks elegant. If you have a study room, add a concrete bookend with your favourite books in it. Shop for stylish butterfly bookend from Craft Beton. Check their luxurious collection of cement décor items like lights, bookends, basin, tray, etc.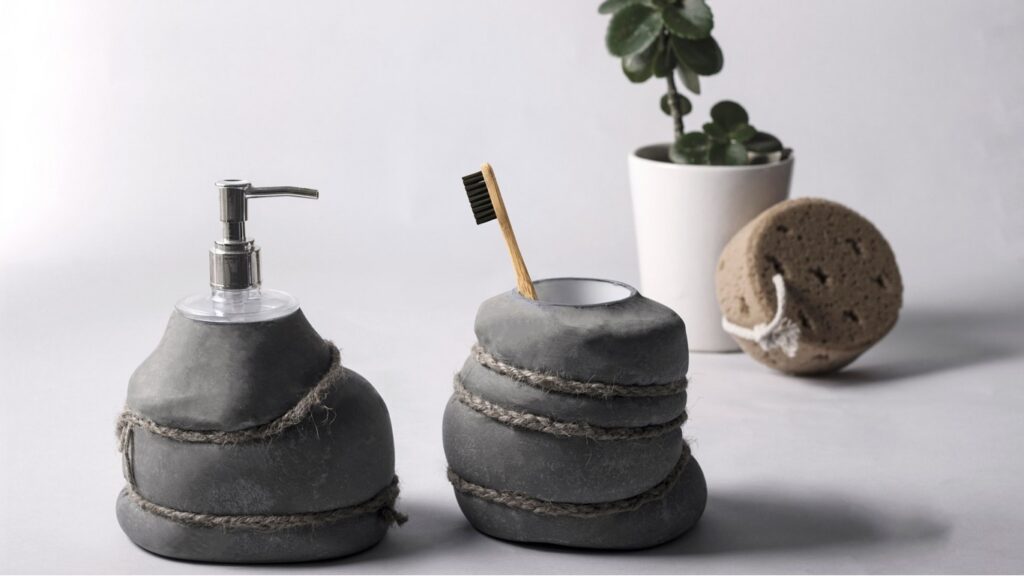 A beautiful concrete basin looks elegant in a country style bathroom or powder room. Check out for concrete brush holder to match the décor of the bathroom.
Stone Counters
Incorporating a stone counter in your kitchen has a countryside charm to it. You can also create a level brick wall without plaster to add to the rustic look. Wooden backsplash looks extravagant and it's a popular trend in many restaurants around the world. It is made by sticking wooden pieces together into the wall. It creates a fantastic backdrop for your living room. A wooden clock looks chic in a living room or foyer area. You can easily get a clock kit from any antique or hobby shop. Get a beautiful piece of wooden block, stain it and smooth out the front surface and fix the clock kit on it. Small garden twigs can make up beautiful tea-light candle holders. Just attach the twigs with adhesive and tie a satin pastel ribbon around it.
Fireplace
A wood fireplace is a must in a country home. A beautiful wooden log fireplace is great for rustic interiors. It gives the ultimate cozy experience during winters. You can have a marble mantle on top of the fireplace. A mantle is a great way to showcase your family photos.
Refer to this handy checklist to decorate your home that exudes warmth and a countryside feel.